Anime fans, we've teamed up with the popular Netflix anime show Baki! This official collab is perfect for Anime enthusiasts, gamers and gym goers. There's fan favourite Blue Rasberry flavour with a Player Ammo X Baki design, plus a brand new flavour: Baki Strawberry Lemonade. Don't forget to check out our awesome bundles, which include 2 exclusive Baki coasters!

energy

focus

natural ingredients

vegan friendly

nootropics
zero crash

low calories

zero sugar
The story involves the protagonist Baki Hanma, the youngest ever champion of underground fighting, and his fight against the formidable opponents including his own father Yujiro Hanma, who is widely regarded as The Strongest Creature on Earth.
However, five deadliest and scariest convicts of death sentences from all over the world are coming to Baki at the same time. Their purpose is "To know defeat".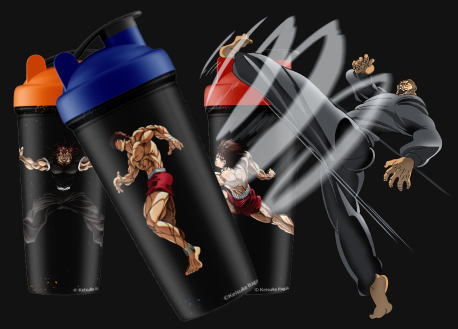 THE ESCAPED DEATH ROW CONVICTS
DORIAN
YANAGI
SIKORSKY
DOYLE
SPEC
THE MAIN UNDERGROUND FIGHTERS
Baki
RETSU
HANAYAMA
DOPPO
YUJIRO
OLIVA
What's in the Baki Edition bundles?
1 x 60 servings Baki Edition Flavour Tub (3 Flavours to choose from)
1 x Baki Edition Shaker (1 unique design per flavour)
2 x Baki Edition Coasters (2 unique designs per flavour)
baki blue ras bundle
Yujiro Fruit Punch Bundle
baki Strawberry Lemonade Bundle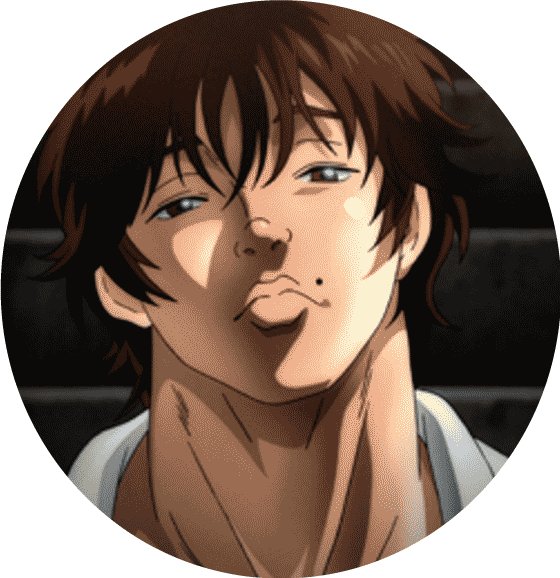 1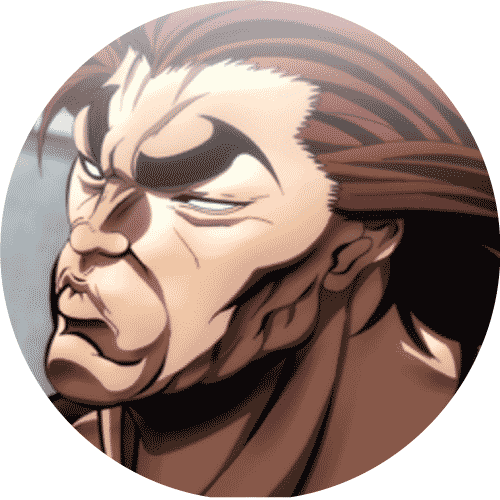 3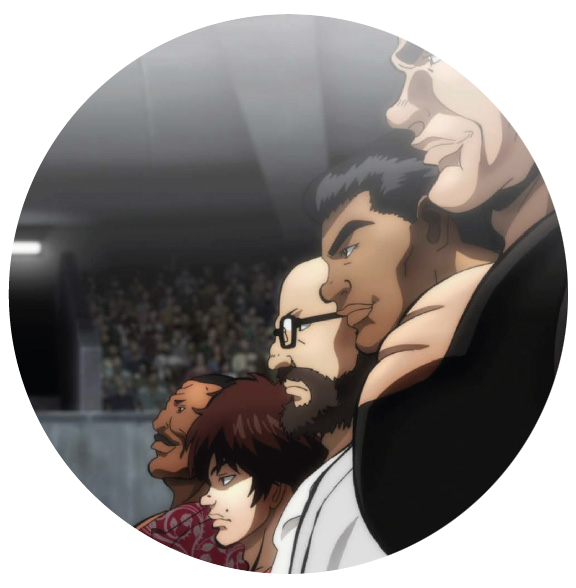 5
Baki Edition Lineup
Order before 2pm for same day dispatch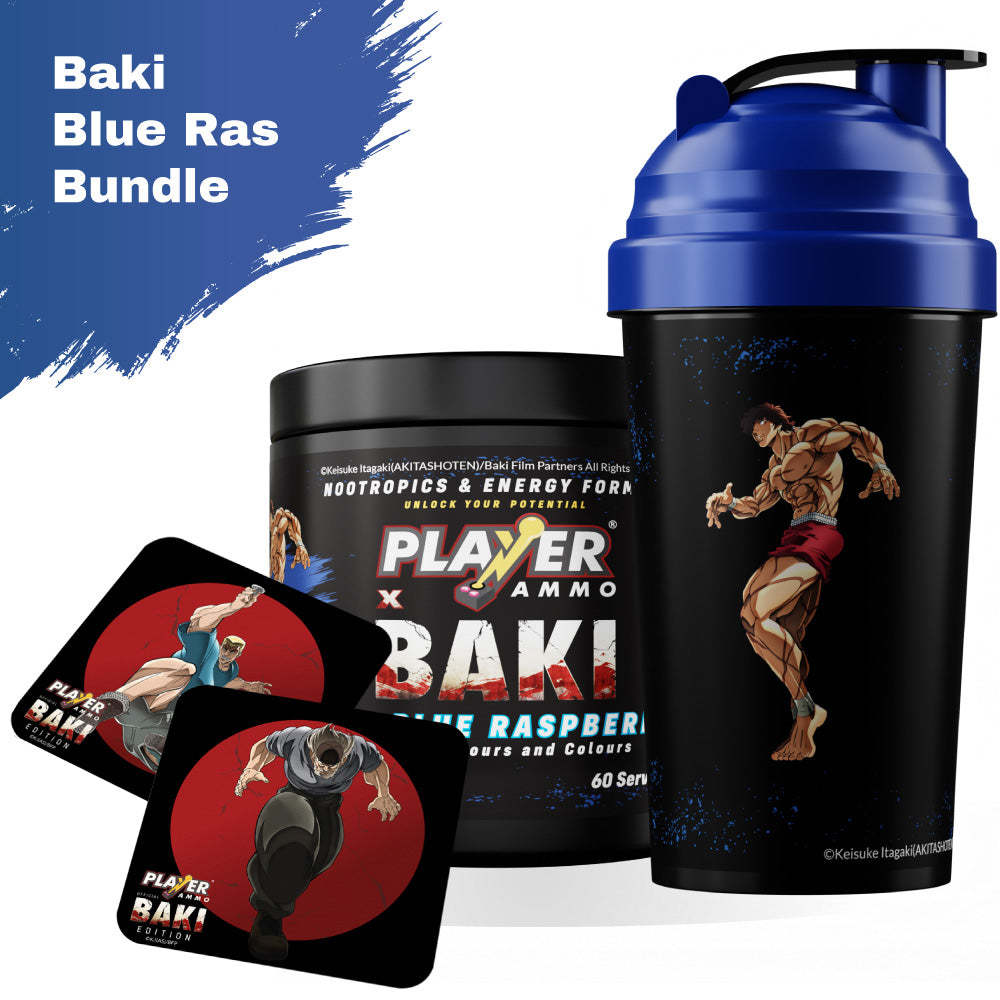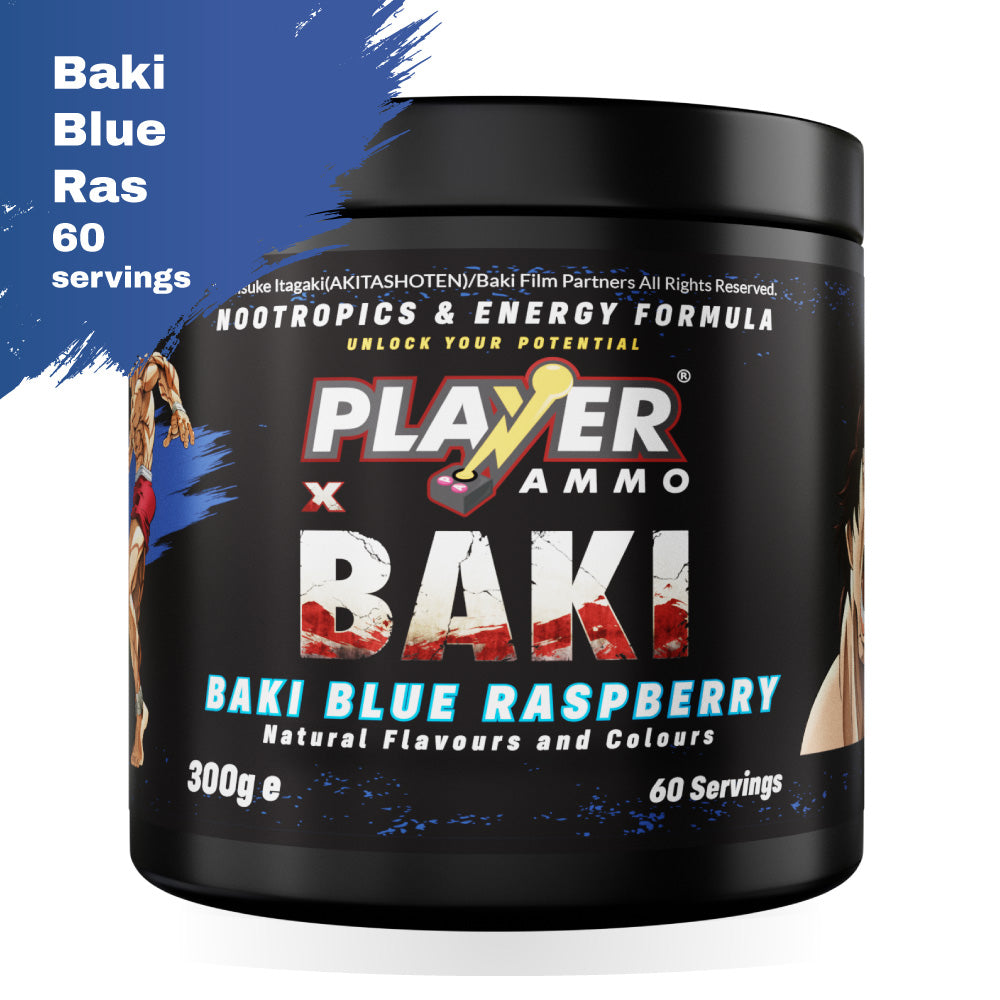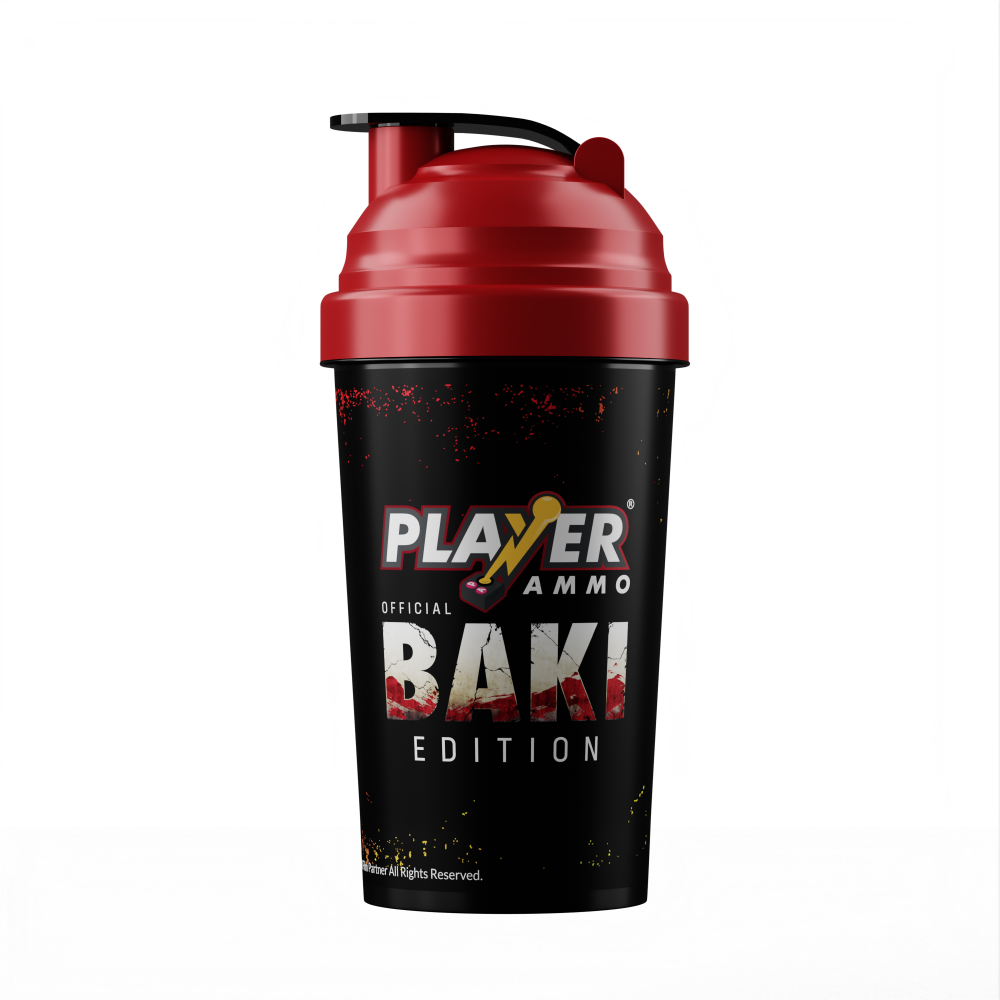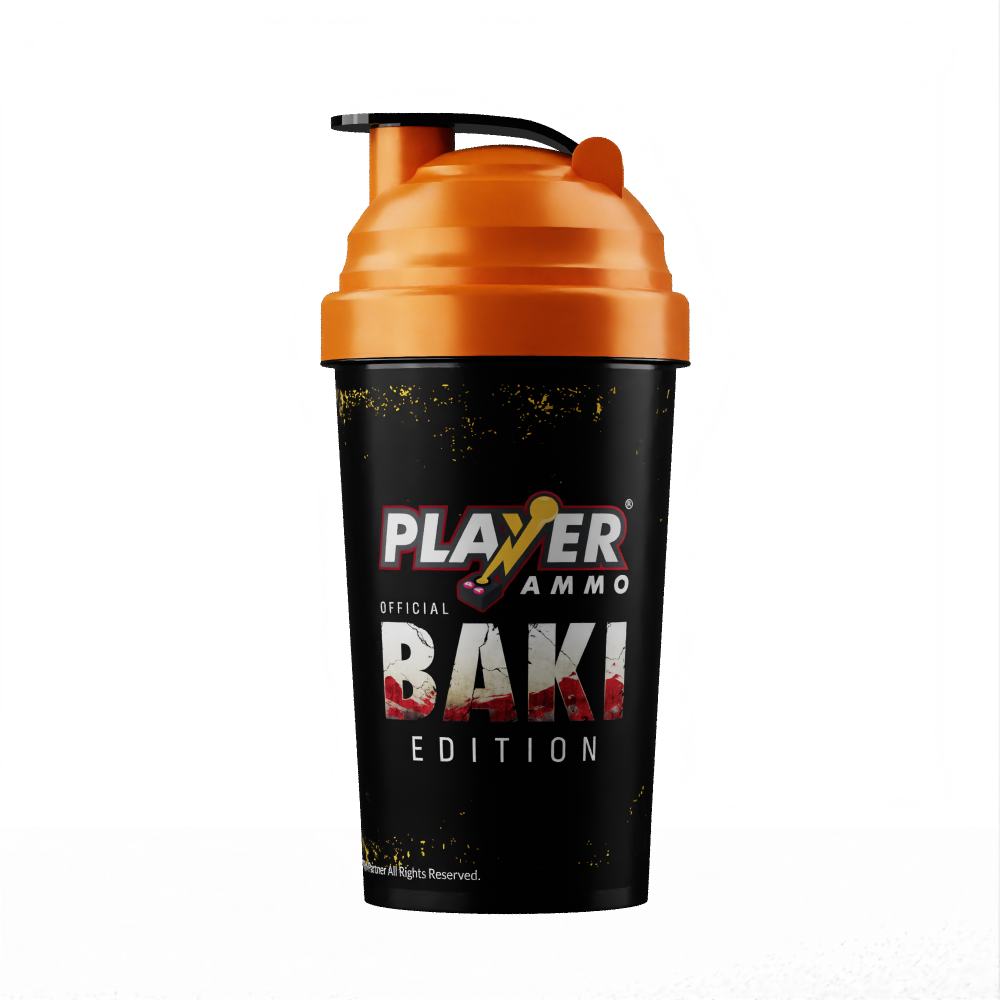 supplement information
Serving size: 1 scoop (5g)
Serving per container: 60
amount per Serving

NRV*

Energy / Calories

18kCal/76kJ

-

Fat

0g

-

Carbohydrates

3g

-

Sugar

0g

-

Protein

1g

-

Vitamins & Minerals

Sodium Chloride (39% Na)

140mg

2.33%

Ascorbic Acid - Vitamin C

70mg

87.5%

Potassium from Citrate (36%)

31.5mg

1.58%

Magnesium from Citrate (30%)

21mg

5.6%

Vitamin B6 Pyridoxine Hcl

1.54mg

110%

Vitamin B1 Thiamin Hcl

1.28mg

116%

Vitamin B5 Pantothenic Acid

1.08mg

18%

Vitamin B12 Cobalamin

0.005mg

200%

nootropics

L-Tyrosine

700mg

-

L-Taurine

650mg

-

Bacopa Monnieri Extract (20% Saponins)

175mg

-

L-Choline Bitartrate (41% cho)

175mg

-

Caffeine Anhydrous

150mg

-

N-Acetyl-L-Carnitine

105mg

-

Ashwagandha Root Powder

70mg

-

L-Theanine

70mg

-

Maltodextrin, Malic acid, Citric acid, Natural Flavouring, Natural Colouring, Sucralose
Fruit Punch: A mix of orange, pineapple & lime to give a fruity, tangy & refreshing taste. Often described as a light cordial drink

Blue Raspberry: A strong, sweet, slightly tangy raspberry flavour. Often described as a familiar blue candy taste
Player Ammo is the ultimate energy and focus formula designed to level up your performance. It uses the highest quality ingredient, mixes great and provides a healthier and more cost effective energy drink.
Step 1: Take a single serving sachet or one scoop of 5 grams from your tub and pour into a Player Ammo shaker
Step 2: Add 150ml to 300ml of water to the shaker depending on how strong you would like the flavour to be
Step 3: Secure the shaker and shake vigorously until smooth
Step 4: Enjoy unlocking your potential!
Why Player Ammo?
We are a energy supplement company who have selected ingredient's that help performance, concentration and creativity. We have made sure to keep our product sugar free, natural flavouring/colouring and the cost to consumer down. We have listed our ingredients and amounts so you can have peace of mind knowing what it is that you are drinking. We personally have created and tested our drinks for taste, effectiveness and look. We take onboard all feedback and actively look to make changes where we can to accommodate.
Why our product?
We offer a drink that's got no sugar, natural flavouring/colouring and we personally taste test our products so it is flavoursome. We also have active ingredients that are very potent and we don't cut corners in terms of our labelling. What you see is what you get.
Why these ingredients?
We have selected these ingredient's due to the enhancement of performance they provide. We have researched each ingredient and selected the amounts based on recommended data such as journals. Effectiveness and health conscious have been our pillars and not cost.
Why these flavours?
We try to make fruity, natural occurring tastes and colouring. We don't add sugar or additives and try to keep the taste refreshing. We avoid sharp tones and artificial flavouring and do go down the natural route.
What is the cost per serving?
Our cost per serving is 58p. This is a lot cheaper than traditional energy drinks that are canned. Its also extremely competitive against other energy tubs in terms of number and amounts of active ingredient's used.
How much Caffeine?
With a 5-gram scoop serving we have 150 mg of Caffeine. Right amount without jitters. Can consume two drinks as this is still below the daily recommended dosage of 400ml of Caffeine.
Is your product suitable for Vegetarian/Vegan/Halal?
Our products are suitable for Vegetarian, Vegan and Halal friendly!
Who is not advised to consume Player Ammo products?
Due to high caffeine our product is not advised for children, pregnant or breast-feeding mothers. If you have any health conditions which include diabetes please consult your doctor before consumption. If you feel any adverse effects stop consumption immediately and inform a health professional.
What are the recommended instructions for consumption?
We recommend 150ml to 300ml of water with our product. If you like a stronger taste then have around the 150ml of water. A milder taste will be the higher amount of water being 300ml. Mix well ideally with a Player Ammo shaker. Best consumed 20 minutes before intended activity. However, everybody is different and results may vary. To be consumed in one go. No more than two servings a day recommended. Use only as part of a healthy and balanced diet.
Where do I store the product?
Store in a cool, dry location and out of reach of children. Protect from direct sunshine, moisture and damage to the sachet/tub.
Does the product contain any potential allergies?
May contain traces of nuts, gluten, eggs, milk and peanuts as the factory does handle these ingredients.
Where do you ship to?
Our current shipping location is the United Kingdom. We will be looking to expand in the near future.
How do I become a Brand Ambassador?
We are on the lookout for talented gamers, streamers, content creators, designers, influencers and anyone who has an aptitude to use our product to unlock their potential. Halla at us and we will get in touch to discuss your potential. Email us on info@playerammo.com
Was your product damaged, stolen or lost goods merchandise?
If you feel like your product is damaged during transit please contact us immediately and we will resolve the matter. We are not responsible for stolen or lost merchandise. Onus is on the consumer to contact our carrier to inform them of their stolen or lost merchandise and raise the concern with them.
Is the product Late/delayed delivery?
Once we have received an order we dispatch it within 24 hours with our carrier. It normally arrives with the consumer within 1-2 working days. If it has not arrived then please allow up to 5 working days for the carrier to deliver it. After this please contact us directly on support@playerammo.com
Free Promotional Delivery
Currently offering free delivery on all tubs and on all launch packs
UK Standard delivery
Standard delivery service, tracked and signed for £3.99 (2-3 working days)
UK Express delivery
Express delivery service, tracked and singed for £5.99 (1-2 working days)
Free delivery
Free delivery for any order over £50, using an express delivery service, tracked and signed for (1-2 working days)
Delivery Policy
Orders will be processed on the same working day when received by 11:59am, otherwise will be processed the next working day.
All orders will be scanned, weighed and attached with a tracking number. This will ensure your peace of mind whist using our bespoke tracking service.
No orders will be processed on any national holidays or weekends.
Currently all orders will be processed using DPD, Hermes, InPost, YodelDirect or a UPS service. All orders will receive tracking information and a delivery window on the day of delivery, provided all credentials such as address, email and mobile phone have been inputted correctly. We recommend signing up so you can easily access your information using our online portal.
All orders will require a signature, so please make sure there is someone at your delivery location who can sign for the Player Ammo package when it arrives. Otherwise, a calling card will be left with instructions.
Deliveries can occur anytime between 7am and 9pm.
When you shop online you have the right to a "cooling-off" period of 30 days under the UK Consumer rights act 2015.
Player Ammo food items do generally have a 6-month shelf life once opened, so we will honour returns as long as the product is returned within 30 days of purchase, unopened, undamaged and in its original condition.
We will not be responsible for the return shipping cost and this will not be refunded. Please also ensure you use a tracked delivery method when returning items to us.
Once your return is received and approved, we will then initiate your refund to your original payment method. Please allow 7 working days for this to be fully completed.
To initiate your refund, please send an email to info@playerammo.com describing your return request, which should include your order number.
Damaged, stolen or lost goods merchandise:
If you feel like your product is damaged during transit, please contact us immediately and we will attempt to resolve the matter in partnership with our courier service. We are not responsible for stolen or lost merchandise. Onus is on the consumer to contact the courier service and to inform them of their stolen or lost merchandise. As stated in our delivery section, all packages will be scanned, weighed and attached with tracking information to ensure it reaches you safely and in a timely manner.
If you need to contact us for any reason, please feel free to reach us on info@playerammo.com we aim to respond to all enquiries within 24hours Mon - Fri 9am- 5.30pm